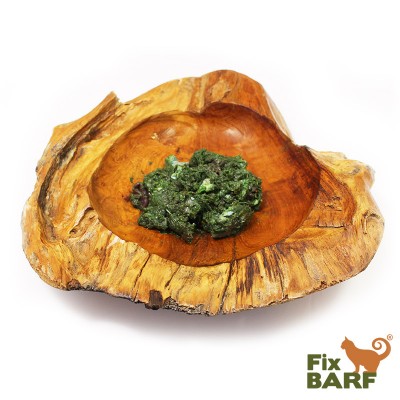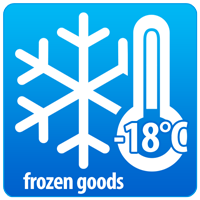 Turkey (pregnant and lactating)
EBA070
The Fix-BARF-menus pregnant and lactating are raw meat meals, which are specially designed for pregnant and lactating mother cats. Besides fresh liver and fat, only high-quality muscle meat from the turkey hen is processed for the Fix-BARF-Menu Turkey, without any tendons, gristles, connective tissue etc. This menu is highly digestible, with a high protein and fat content very rich in energy and thus ideally suitable for the supply of the mother animal.

The 'Turkey' menu also contains fresh, raw salmon and salmon oil, these components are responsible for the supply with vitamin D and the supply with omega-3 fatty acids, which are important for the pregnant cat and her kittens, that are supplied with it via the mother's milk
A slightly higher proportion of raw and finely grated pumpkin, which supports the most commonly sluggish digestion during this time - completes the raw meat menu.
The increased demand of the mother cat for various vitamins, nutrients and trace elements is taken into account in these special menus. Also this menu is - like all Fix-BARF products - a complete feed.
Feeding recommendation: From the 2nd trimester of pregnancy to about the 8 th week of life of the kittens. Feeding amount: Several small portions spread over the day, the amount of food is not limited.

Composition:
29,22 % Turkey leg with skin
27,83 % Turkey breast
20,87 % Turkey heart
9,04 % Turkey fat
0,84 % Turkey liver
4,18 % Salmon
5,00 % Pumpkin
<4% meat bone meal, spirulina, brewer's yeast, egg shell, seaweed meal, taurine, sea salt, salmon oil, ferrous(II)sulfate, vitamin E, zinc oxide, thiamine, sodium selenite, folic acid, vitamin B6
Refrigerated Item:

Yes

Taxation:

Reduced rate

Product Type:

Single Article

Poultry:

Yes

Fish:

Yes

Offal:

Yes
Please note that only registered customers can obtain details of our special offers.
back