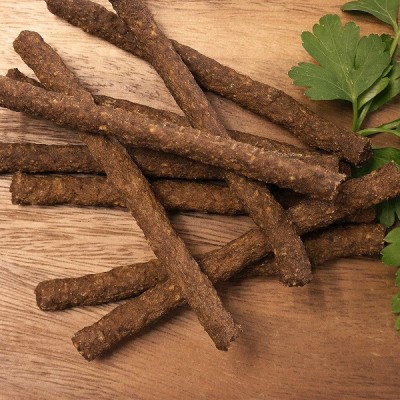 Lamb sticks
EKA003
A hearty treat for small and large dogs! These healthy meat sticks can serve as snacks or rewards. 90% lamb from Germany, dried using a procedure certified by DEKRA – a guarantee of the highest product quality.

Composition:
Meat and animal by-products: 90%
Cereals (maize meal, broken down)
Vegetable by-products
Mineral nutrients

Analytical components:
Additives: Natural antioxidants

Give the pet no more than 2 to 6 sticks per day, depending on its weight and deportment. Please provide sufficient drinking water. In some cases, the use of natural ingredients can lead to minor colour variations in the end product. This product is unfit for human consumption.
Taxation:

Standard rate

Product Type:

Single Article

Lamb & Goat:

Yes
Additional Information
Analytical composition
Please note that only registered customers can obtain details of our special offers.
back