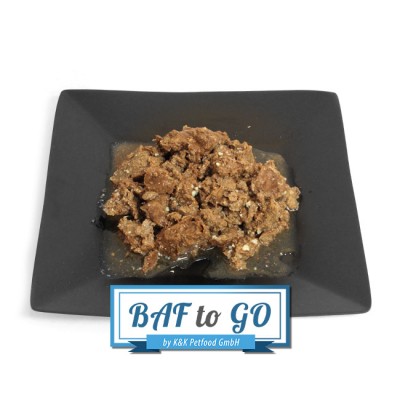 Beef Heart (minced) - BAF to GO
BAF11
This BAF to GO-product is a very low in fat, but protein-rich delicacy for your fosterling. Beef heart is an excellent supplier for B-vitamins, biotin, nicotine- and pantothenic acid and increases the mental capacity of your pet. It also leads to a decrease of the blood-fat-level. This product is especially suitable for ill animals, animals during reconvalescence plus working dogs with increased energy needs. The food mixture is coarsely minced and equally attractive for small dogs and cats.

The extra-advantage: Like all our BAF to GO-products, also this product is cooked gently and made long-time durable during our special production process  –  completely without any additives like salts, for example. You can be sure that all BAF to GO-products are natural and packed sterilely.

Both the production process and the packaging method have been optimized in a way that a storage without any special cooling is possible. A deep freezer is not needed for the whole BAF to GO-assortment – the products can be stored at room temperature up to 2 years. Please avoid an exposure to direct sunlight.  We recommend to mix the product well before opening. After opening please store it at a cool place and feed it within 2 to 3 days.

As our BAF to GO-products need no cooling, they are separated from the frozen food by an specifically developed intermediate floor in the styrofoam box and are delivered together with the frozen food!

Cooked gently, packaged specially, long-time durable, even without cooling -  THAT'S BAF to GO!
Refrigerated Item:

Yes

Taxation:

Reduced rate

Product Type:

Single Article

Beef:

Yes

Offal:

Yes
Please note that only registered customers can obtain details of our special offers.
back